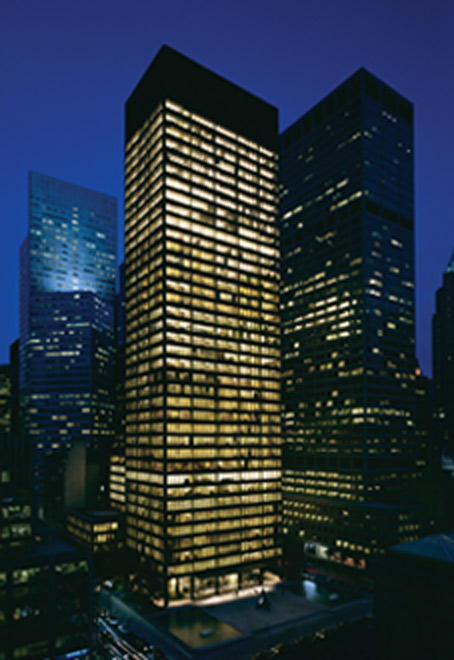 Seagram Building
Designed in 1958 by legendary architect Ludwig Mies van der Rohe, the Landmarked Seagram Building is an architectural masterpiece. Located on Park Avenue between 52nd and 53rd Streets in the heart of Midtown Manhattan, it is regarded as one of the world's finest office properties, complete with an Executive Lounge and terrace and rotating art exhibitions on the Seagram Plaza and in the lobby.
A "Class A+" building with more than 820,000 rentable square feet, 375 Park has long been popular with financial service firms, law firms and Fortune 500 companies. The building houses a 150-car parking garage on the concourse level and is also home to the highly anticipated new restaurants by chefs Mario Carbone and Richard Torrisi.
RFR's stewardship of this landmark trophy asset has included more than 1.3 million square feet of leasing activity at market-leading rents. RFR has dramatically improved the asset's financial performance, more than doubling the property's net operating income since acquisition.
Building Information
Constructed

1956-1958



Architect

Ludwig Mies van der Rohe, Philip Johnson



Total SF

820,000



Floor Sizes

Floors 2-4: 39,000
Floors 5-10: 26,100
Floors 11-38: 15,700-18,200


---
View Availabilities
Floor
RSF
Possession
Plan
Entire 2
38,075
November 2019
Entire 3
39,066
November 2019
Entire 4
39,115
November 2019
Entire 5
26,062
November 2019
Entire 6
26,062
November 2019
Entire 7
26,062
November 2019
Entire 9
26,062
November 2019
Entire 10
26,062
November 2019
Block of 246,566 RSF
Part 15
1,280
Arranged
Entire 21
17,519
November 2019
Part 22
5,461
Immediate - Fully Furnished
Part 25 - Prebuilt
4,479
Immediate
Part 25
2,252
Immediate
Part 26 - Prebuilt
Immediate
Arranged
Part 27
7,817
Immediate
Entire 30
18,214
Immediate
Part 36 - Prebuilt
5,770
Immediate
Part 37 - Sublease
1,927
Immediate - Thru July 2021
Visit seagram375park.com